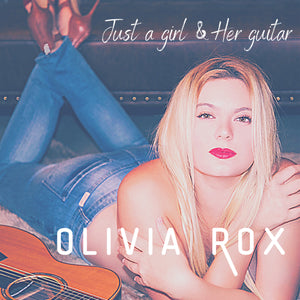 Olivia Rox - Just a Girl & Her Guitar - album
Regular price
Sale price
$12.99
---
*CD purchase includes a free digital download at time of purchase.
Colorado-born and LA based Olivia Rox, is becoming one of the country's most acclaimed singer-songwriters. Her last three singles from her debut album Poprox all debuted atop the pop/ Top 40 US radio charts.
Olivia Rox is mid-promotion with her debut pop album Poprox, she even has a current new single "Princess" on the Top 40 and AC radio charts. But, that's not stopping her from doing it all. Since the pandemic halted her Poprox tour, for this powerful debut album, Olivia decided to pull up her bootstraps and not let this extraordinary time in life sidetrack her. So she decided to record yet another new album, which is a complete departure from her normal pop rock world, bringing you this acoustic gem, Just A Girl & Her Guitar. In a time of uncertainty and fear in music and the world, right in the middle of the coronavirus pandemic, she delivers this gift.
So, wash away all your cares for a bit, and put this new authentic acoustic album on, by Olivia Rox. Her voice and guitar playing will have you wanting to sit down, put your feet up, and sing along to every single song. It's moving, deep, happy, sad, everything that you would want from music, because It makes you forget your troubles and feel good. Part of its magic is that it is no frills, and bare bones, which makes it really stand out. Olivia plays the guitar and sings enchanting vocals, which are all one takes, and she has not used auto tune at all, just back to basics, when auto tune didn't even exist. Rox manages to deliver a Joni Mitchell throw back album full of intricate melodies and thought provoking lyrics.
Olivia Rox on releasing her new acoustic album during a pandemic, "When quarantine began, I threw myself into my music, my animals, cooking, gardening, and of course binge watching my favorite shows. You have to understand that my life was going at lightning speed when the world abruptly stopped with Coronavirus. I was literally in the studio rehearsing with my band, dancers and team, gearing up for my long awaited, first big tour for Poprox (which will obviously have to wait until the world is ready to go out and enjoy live music again safely). So it was kind of nice to slow down and be still for a minute. It was then, I decided to just go inward and take a breath. I feel it is really important to protect our loved ones from this awful virus, and to stay positive while staying home during the coronavirus pandemic. It can be difficult for us to all be apart and social distance, because as human beings we're wired to be with each other to socialize and communicate, and so this is a tough time for everyone. We have to stay strong, and remember that we're all in this together. This too shall pass, and we will get through it. That's why I felt this acoustic album would be a nice departure, and my gift to the fans. This album is music for the times, for how we are all feeling; introspective, meditative, reflective if you will. I can't sit still for too long, so I also kept myself busy promoting my first album Poprox, and my 3rd single at radio "Shooting Star". Then, my family and I started a talk/music show which airs on Facebook Watch, 'The Olivia Rox Show'. This fun show allowed myself and my band to be able to still create music and entertain the fans."
This acoustic, introspective album aptly titled, Just a Girl & Her Guitar was born from a quieter time in our lives that we will never forget. The record has a mellow, chill, feel good vibe. This collection is completely different from Olivia's pop music. This is one you could kick back and put on for a relaxing Sunday afternoon. Yet, get ready for the same brilliant melodies, lyrics and hooks that we've come to expect from Olivia Rox. Olivia's debut album PopRox is still burning up the radio airwaves, and she's rocking with her fourth pop single "Princess", released August 2021. However, Olivia and her label Songbird Records made the decision to release this body of work as well, because Rox's creativity was flowing during the 2020 pandemic, and the world needs to hear it. Rox is a songwriter with a vast catalogue which crosses many genres, and the one constant that everyone can appreciate is a good tune. Well, there's no shortage of them here, and in such unprecedented times, this young artist gives us hope, and a promise of much to offer to the world. If you haven't listened to Olivia Rox's Poprox and Just A Girl & Her Guitar yet, they are well worth a listen.
---